(6 April 1856 – 14 March 1938)
The University of North Carolina at Chapel Hill Herbarium (NCU) has cataloged 10 fungal specimens collected by Rachel Milner Fell.  NCU seems to be the only herbarium curating fungal specimens collected by her.
Rachel M. Fell was born on 6 April 1856 to Hester Vernon Brown Fell (1818-1906) and Jesse Weldon Fell (1808-1887) in Bloomington, Illinois.  In addition to Rachel, the family included Henry Clay Fell (1838-1927), William Brown Fell (1841-1841), Eliza Brown Fell Davis (1842-1900), Clara Vernon Fell Fyffe (1844-1916), Flora Maria Fell (1850-1855), Alice C. Fell (1853-1927), and Fannie C. Fell (1858-1931).1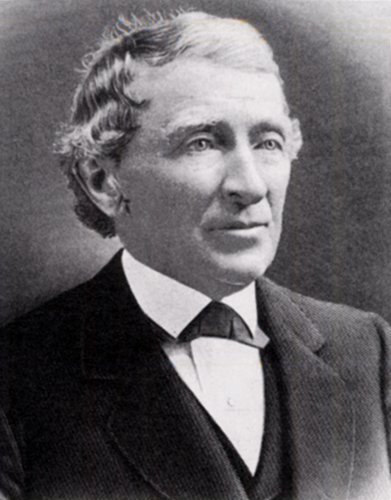 It is likely that Rachel Fell was interested in natural history due to her father's influence.  Jesse Weldon Fell was born in Pennsylvania to a family of the Quaker faith.  "Quaker practices at that time required every male member to learn a mechanical skill in addition to formal education. Fell's parents thought it best for him to become a tailor since he was not physically strong. Having no interest in that path, Fell objected and his parents chose not to coerce him. Instead, he attended a boarding school in Downington, where he studied under Joshua Hoopes, a leading botanist…In the fall of 1828 at the age of 20, Fell headed west with a small amount of money and what he could carry on his back. For a brief period of time he sold books in the Pittsburg area until he moved to Steubenville, Ohio in the spring of 1830. There he studied law in the noted Stokeley and Marsh law firm and paid for his studies by completing office work and odd jobs around town. At the same time, Fell made stump speeches for the Whig Party which opposed President Andrew Jackson. In 1832, he passed the bar exams…
In the spring of 1833 Fell moved to Bloomington. Bloomington, with a population of 180 people, had no resident clergyman, newspaper, or lawyer. Fell boarded with James Allin on the corner of East and Grove Streets. He became Bloomington's first and for a short time, only lawyer. Truthfully, however, Fell never fully embraced the law profession. In 1834 Fell was appointed as Commissioner of Schools of McLean County. This position introduced him to the venture of buying and selling land which he enjoyed much more than being a teacher or a lawyer. Fell also spent the winter of 1834 and 1835 in Vandalia—then, Illinois's state capital—successfully fighting the annexation of McLean County territory by neighboring counties. In Vandalia he shared accommodations with John Todd Stuart and Abraham Lincoln, both Whig legislators from Sangamon County. It was here that Fell first met Lincoln who would become his close friend and political ally…
In 1835 Fell was made an agent of the newly-chartered State Bank of Illinois, where he learned the mortgage business. The next year, after practicing law for three years in Bloomington, Fell tired of the career altogether. He sold his law practice to David Davis who had recently settled in Bloomington and entered the land speculation business. Through this new career he participated in the development of the towns of Clinton, Pontiac, Lexington, Towanda, LeRoy, El Paso, Larchwood, Decatur, Joliet, and Dwight. Fell also made several additions to Bloomington and founded the Town of Normal which had originally been known as North Bloomington…
Perhaps one of Jesse Fell's greatest contributions to McLean County was his role in bringing the Normal School (later named Illinois State Normal University) to the area. On February 18, 1857 the State of Illinois passed a bill creating the State Board of Education and directing them to locate and establish a normal school for the training of teachers. Fell, a big believer in the worth of education, channeled his energy and money into the effort to get the new school located in Bloomington. Fell employed the help of his friend Abraham Lincoln, who was then a lawyer on the 8th Judicial Circuit, to draw up a form of bond or guaranty. This was to be signed by the "responsible citizens" of Bloomington who had donated land or money for the "Normal" school to be located in North Bloomington. He involved almost every male citizen of note which included David Davis, Ashael Gridley, William McCullough, Mishak Pike, Edwin Bakewell, Leonard Swett, Asa Moore, William Ward Orme, and William Major. Fell was the largest contributor. He pledged $9,000 worth of his own money and property with the promise of more in the future. In all, Fell was able to raise $141,725 which was almost three times the amount that the town of Peoria's bid of $50,032. Because of the amount of money and land Fell was able to raise and the fact that the location of the school in North Bloomington would be three-fourths of a mile from the Illinois Central and Chicago-Alton Railroad junction, the State Board of Education decided in the Summer of 1857 that Bloomington would be the location of the normal school…
Because McLean County was platted at the edge of the "Grand Prairie," timber was valued very highly in the area. In the1850s and 1860s Fell oversaw the planting of thousands of trees in Normal. He was also appointed to superintend the work of ornamenting the grounds with trees on what is now ISU's campus. The education he had received from Hoopes prepared Fell for this task. He hired William Saunders of Pennsylvania, the same man who had designed the landscape of Fell's estate several years earlier, to help him with this monumental task. Saunders was trained at Kew Gardens. He became the U.S. Department of Agriculture's first botanist and landscape architect. Saunders also had completed the plantings of the District of Columbia Park System, designed Gettysburg Cemetery, and was one of the founders and first president of the National Grange. Fell also employed the help of an African American man by the name of Milton Barton. Barton and his family lived in Alton, IL where Milton worked as a nurseryman. According to Barton family lore, it is believed that Fell came south to Alton to buy trees to bring back to Bloomington-Normal to "help domesticate this patch of prairie, protect it from the elements and make property more valuable." While in Alton, Fell met Barton and hired him to help him with his task. Barton and his family moved to Normal in 1862 where he worked for Fell planting thousands of trees throughout the town of Normal and on the ISNU campus. These trees were often ones planted on Fell's land first and then transplanted to their final position, or, Fell received donations of trees from local nurseries. Fell chose trees well-suited to Illinois's climate and supposedly supervised all of the plantings. He was even granted a special act from the Illinois State Legislature to permit the fencing of young trees planted on open streets for their temporary protection. His love of plants and his efforts to beautify the area inspired his nickname, "The Tree Planter."
Fell became very active in politics during the mid to late 1850s… Being anti-slavery, Fell quickly allied himself with the newly-formed Republican Party which opposed the expansion of slavery. Fell was one of the major organizers of the Illinois Republican Party which grew out of the Anti-Nebraska Convention held on May 29, 1856 in Major's Hall in Bloomington. Fell spoke at this convention and Lincoln gave his now-famous "Lost Speech." [At the Republican Convention in 1860] Abraham Lincoln became the Republican Party's Presidential nominee for the general election. Fell telegraphed Lincoln: "City wild with excitement. From my inmost heart I congratulate you." Indeed, in the span of a year and a half, Fell had helped to turn a twice-failed Senate candidate into the Republican nominee for President of the United States.
Fell bitterly opposed slavery and supported integration after the Civil War. On April 24, 1867 a citizens' meeting in Normal discussed the topic. Fell was outraged that "colored children were excluded from the public schools and [was] mortified that" children were excluded from "public education because of the color of their skin" in the town of Normal. Other residents of Normal who did not see eye to eye with Fell, like Edwin Bakewell, stated while the "function of all public schools is to educate all," that because the law dictates that African American children cannot attend their schools, he must abide and uphold that law. Fell argued for the democracy of education, a belief stemming from his Quaker roots.
Fell always had a great amount of energy and remained active even in his final years. In December, 1886 he contracted pneumonia and never fully recovered. After visiting friends in Chicago in early February, Fell returned to Normal and suffered a relapse. At 78 years of age, Jesse Fell died on February 25, 1887 surrounded by family at his home. His funeral took place on February 28, at Illinois State Normal University's great hall…"2
On June 20, 1878 Rachel Fell graduated from Illinois State Normal University (now called Illinois State University) in Normal, Illinois.3,6 Sometime during 1880-1882 Rachel Fell worked with Arthur Bliss Seymour, a recent graduate of the University of Illinois in Champaign-Urbana.4  Rachel assisted Seymour by preparing his fungal specimens for inclusion in the collections of the Illinois State Laboratory of Natural History in Springfield.
The sum of $500 per annum was appropriated at the last session of the Legislature for field work in botany, and Mr. A. B. Seymour, a thorough student of the lower fungi, was engaged for this purpose.  In order to enable him to spend all his time in the actual accumulation of specimens, Miss Rachel M. Fell was detailed to receive his material, as it arrived at the laboratory daily by express, to put it through the press and prepare it for the herbarium. 5

In the winter of 1882-1883 she traveled to Florida and collected the fungi now curated by NCU.
On 14 August 1884 Rachel Fell married Arthur Fremont Treakle (1858-1924) in McLean County, Illinois.7  Rachel and Arthur had two children, Jesse Fell Treakle (1887-1910) and Harold Winters Treakle (1891-1908), and in 1900 the family was living in Harrisonville City, Cass County, Missouri where Arthur was the proprietor of a grocery.8  The 1910 census shows Arthur and Rachel living in a boarding house in La Junta, Otero County, Colorado, with Arthur earning a living as a salesman for a correspondence school.9  Rachel must have passed on her love of botany to her son, Jesse Fell Treakle, as ILLS curates five vascular plant specimens (Geum triflorum, Thermopsis rhomibifolia var. montana, Castilleja integra, Galium boreale and Campanula rotundifolia) collected by him in "Enlowe, Colorado" on 30 May 1910.  Tragically, just a few weeks later, Jesse and another student from the University of Illinois died after being struck by lightning while hiking on Mount Pisgah in Teller County, Colorado.14
The 1920 census lists Rachel as a secretary and Arthur  as poultry husbandsman, both at an Agricultural Experiment Station in Blacksburg, Montgomery County, Virginia.10  Arthur Treakle died at age 66 of pneumonia on 18 September 1924 in Virginia.11  By 1930 Rachel was living in Los Gatos, Santa Clara County, California, with her sister, Fannie C. Fell (1858-1931).12  Rachel M. Fell Treakle died in Normal, McLean County, Illinois on 14 March, 1938, and is buried in Evergreen Memorial Cemetery in Bloomington, Illinois.1,13
 "Rachel Fell Treakle"  Find A Grave Memorial ID #9793492.  https://www.findagrave.com/memorial/9793492/rachel-treakle  accessed on 24 October 2020.
 Bowman, Anthony.  2009. (edited by Candace Summers, 2010) "Fell, Jesse Weldon"  McLean County Museum of History.  https://mchistory.org/research/biographies/fell-jesse-weldon  accessed on 24 October 2020.
"Personal and Local"  The Vidette  September, 1895,  (374)15.
  Wikipedia contributors, 'Arthur Bliss Seymour', Wikipedia, The Free Encyclopedia, 31 August 2020, 18:32 UTC, <https://en.wikipedia.org/w/index.php?title=Arthur_Bliss_Seymour&oldid=976017507> [accessed 24 October 2020]
14th Biennial report of the superintendent of public instruction of the state of Illinois, July 1, 1880-June 30, 1882.  Springfield, Ill., H W Rokker, State Printer & Binder:  1883.  (page LXIII)
Personal Communication, email from Jenna Self, Archives Asst, JoAnn Rayfield Archives, Illinois State University to McCormick 27 October 2020.
Illinois State Marriage Records. Online index. Illinois State Public Record Offices. . Ancestry.com. Illinois, Marriage Index, 1860-1920 [database on-line]. Provo, UT, USA: Ancestry.com Operations, Inc., 2015.  accessed on 24 October 2020
United States of America, Bureau of the Census. Twelfth Census of the United States, 1900. Washington, D.C.: National Archives and Records Administration, 1900. T623, 1854 rolls. Ancestry.com. 1900 United States Federal Census [database on-line]. Provo, UT, USA: Ancestry.com Operations Inc, 2004.  accessed on 27 October 2020
Thirteenth Census of the United States, 1910 (NARA microfilm publication T624, 1,178 rolls). Records of the Bureau of the Census, Record Group 29. National Archives, Washington, D.C.  Year: 1910; Census Place: La Junta, Otero, Colorado; Roll: T624_123; Page: 29B; Enumeration District: 0128; FHL microfilm: 1374136.  Ancestry.com. 1910 United States Federal Census [database on-line]. Lehi, UT, USA: Ancestry.com Operations Inc, 2006.  accessed on 27 October 2020
Fourteenth Census of the United States, 1920. (NARA microfilm publication T625, 2076 rolls). Records of the Bureau of the Census, Record Group 29. National Archives, Washington, D.C. Year: 1920; Census Place: Blacksburg, Montgomery, Virginia; Roll: T625_1895; Page: 12A; Enumeration District: 109.  Ancestry.com. 1920 United States Federal Census [database on-line]. Provo, UT, USA: Ancestry.com Operations, Inc., 2010. Images reproduced by FamilySearch. accessed on 27 October 2020
Virginia Department of Health; Richmond, Virginia; Virginia Deaths, 1912-2014.  Ancestry.com. Virginia, Death Records, 1912-2014 [database on-line]. Provo, UT, USA: Ancestry.com Operations, Inc., 2015.  accessed on 27 October 2020
Year: 1930; Census Place: Los Gatos, Santa Clara, California; Page: 3B; Enumeration District: 0030; FHL microfilm: 2339952.  United States of America, Bureau of the Census. Fifteenth Census of the United States, 1930. Washington, D.C.: National Archives and Records Administration, 1930. T626, 2,667 rolls.  Ancestry.com. 1930 United States Federal Census [database on-line]. Provo, UT, USA: Ancestry.com Operations Inc, 2002.  accessed on 27 October 2020
Ancestry.com. Illinois, Deaths and Stillbirths Index, 1916-1947 [database on-line]. Provo, UT, USA: Ancestry.com Operations, Inc., 2011.  accessed on 27 October 2020
Personal communication, email from Angela Bonnell to McCormick 27 October 2020.